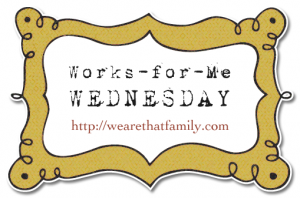 Kristen is the host of Works For Me Wednesday and she hosts a weekly blog carnival. You can visit it
here
. This week's theme is Holiday Gift Tip. She is also having a wonderful giveaway if you link up. She has some great ideas about shopping this holiday season that you should really check out.
Through the years some of the tips that have helped me or that work for my family are:
Wrapping paper - My kids were fanatics about trying to guess their packages. So - I took a tip from a friend and wrap each childs gifts in their own distinct paper. The kicker is that I don't tell them which packages are theirs. Their guessing is all about which paper is theirs. Makes things a fun for me since I am the only one who knows which paper belongs to which kiddo! It certainly works for me.
This year in the spirit of giving more and spending less it has been decided among dear friends that we will give each other the gift of time. Rather than exchanging gifts we will take the time to spend an evening together and enjoying our families. The last few years have been spent trying to find a simple hour to exchange gifts. This year we will set aside an evening and catch up. I am so looking forward to cooking some goodies and enjoying that evening.
Lists - lists always work for me. I listen to what the kids are asking for and then determine what fits in my spending budget. That's the list I try to stick with and seek out those bargain prices. Another way I work those bargains is to buy something during the Christmas sales and set aside for birthdays. Those things start in January at my house.
If you need ideas for shopping this season -
http://www.etsy.com/shop/wearethatfamily
. And if you want to make a contribution then go
here
. You can't go wrong.
Last tip - don't like to shop? I have a friend that wants to shop for you. Seriously. Any locals that want someone to shop for you. Give her a list and she'll take care of it. Groceries and all. Want your stuff wrapped? She'll take care of that as well. I'll gladly hook you up if you want to give her a try.
Merry Christmas - happy wrapping!