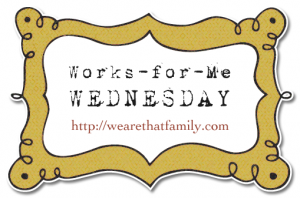 Before I started blogging I read lots of blogs and got lots of tips from these blogs. I loved (and still do) love the WFMW blog party because there are some super tips from some super bloggers! I love Kristen's blog. She loves The Lord and glorifies Him through her blog. She is real and I enjoy reading "real" blogs. So stop over at her blog at http://wearethatfamily.com and get some awesome tips for what works for others. You will be blessed if you read through her blog.
What I need today is a tip on "why"? Why do my cotton shirts (nice colorful comfy summer t-shirts) always come out of the laundry with a spot on them. It looks like a grease spot. But, alas, I do not usually drop food on my shirts! I don't fry anything to get a spot and I have not recollection of getting a spot. ALWAYS, if I buy and brown shirt (and I do every summer since the previous one has a spot) it gets a spot immediately. I buy inexpensive ones fortunately, but I would still love for them to last more than one summer.
Any thoughts? Please share!
My "Works for me Wednesday" tip: Not original from me but not sure where I learned it!
Family clean up day. I make a list on Friday night of what will need to be done on our big cleaning day. This list is made available on Friday night so that they can plan accordingly. Usually it is large enough that each person will get 2 chores from the list. The rule is that the first person up on Saturday gets to choose the first chore and so on down the line. Get up early get the easiest two chores because you will finish the first chore and be back at the list before everyone else!
Works for Me!!
Love you guys.
Diane